Son Saura is the name of two beaches located 5 kilometers east of the town of Cala'n Bosch in the southwest corner of Menorca. The beaches should not be confused with Arenal de Son Saura, located on the north coast close to the resort town of Son Parc.
The beaches of Son Saura in general
Son Saura are two wonderful natural beaches that are well protected inside a bay.
From the parking lot you first get to the western beach Es Banyul, which with a length of 200 meters is the smaller of the two. To the east is Bellavista, which is 320 meters long. Bellavista means nice views, and there are plenty from both beaches.
Between the beaches there is a small area with low cliffs, but both beaches are covered with fine grain and light sand. The water is very shallow, but unfortunately there are often areas with seaweed of the type posidonia oceanica. But the seaweed is completely safe, and fortunately there are also areas with clear water.
As is often the case with natural beaches, facilities at Son Saura are minimal, so there are no sunbeds, umbrellas or showers. The carking lot is quite large on the other hand, but in July and August the beaches are very popular, so in those two months it is a good idea to come early in the day.
Child friendliness
With fine-grained sand and shallow water, both beaches are very child friendly. Often, most seaweed is up on the beach at Es Banyul, so try going to Bellavista first.
Water sports
There is no rental of water sports activities on either of the beaches. The nearest beaches with water sports are Cala'n Bosch and Son Xoriguer a few kilometers to the west.
Restaurants nearby
There are no beach bars or beach restaurants at Son Saura, so it's important to bring plenty of food and drink from home.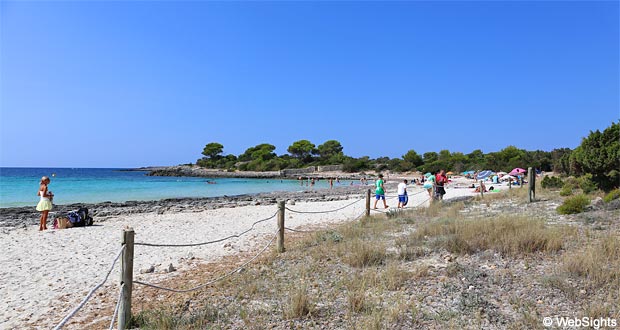 Holiday villages nearby
The nearest towns are Cala'n Bosch to the west and Cala Galdana to the east. Both of these resorts have their own beautiful beaches, yet many rent a car and drive to natural beaches such as Son Saura, Cala Turqueta and Cala Macarella.
Menorca is not much bigger than Son Saura attracting beachgoers from all over the island.
Son Saura map
The Beaches Es Banyul (on the left) and Bellavista (right) are seen in the middle of the map. There is a path through the forest to another beautiful natural beach, Es Talaier.